Request an Appointment
Dentures
Dentures of the not-so-distant past were often clunky, messy, and ill-fitting
Get back your smile and your life
Are you missing most or all of your teeth? Do you have dentures that just won't seem to stay put? At The Center for Cosmetic & Family Dentistry in Destin and Panama City Beach, Florida, we understand the discomfort, frustration, and embarrassment that comes with missing teeth and unstable oral appliances. That's why Dr. Lichorwich, Dr. Skinner, and Dr. Baya are proud to offer our patients implant supported dentures, as a long-lasting tooth replacement solution, and a stable alternative to traditional dentures.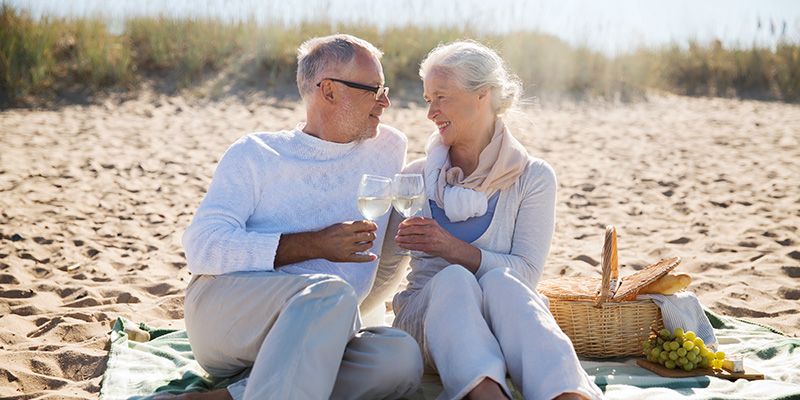 What are Implant Supported Dentures?
Dentures of the not-so-distant past were often clunky, messy, and ill-fitting – they would rock, slip, and move, and required a gooey paste to secure. Today, however, thanks to advances in modern dental technology, dentures are a much different experience. Not only do we have the technology to make them with extreme precision and attention to detail that they look just like your natural teeth, but we can secure them into place with
dental implants
for extra stability.
What are the benefits of Implant Supported Dentures?
One of the most obvious benefits of replacing missing teeth with dentures is cosmetic – they are artfully crafted with such precision, things like tooth color, translucency, shape, and size are replicated. There are also functional, and health benefits of implant supported dentures. Did you know that when missing teeth are left untreated, the jaw bone will start to deteriorate without supporting tooth roots, causing a "sunken face" appearance, and any remaining surrounding teeth can start to become lose, move, and rotate? Other benefits of implant supported dentures include:
Stable & secure
No messy paste
Improved speech
Ability to eat normally again
Beautiful & natural looking
Help maintain bone structure
Prevent sunken face & bone atrophy
If you are missing teeth, or are tired of dentures that don't stay in place, we would love to talk with you about implant supported dentures from The Center for Cosmetic & Family Dentistry. For questions or to schedule a consultation, give us a call today. With two convenient locations in Panama City Beach at 850-810-0300 and Destin at 850-810-0600, a beautiful new smile is just a phone call away.
Hours of Operation
| | |
| --- | --- |
| Monday | 8:00am - 4:00pm |
| Tuesday | 8:00am - 4:00pm |
| Wednesday | 8:00am - 4:00pm |
| Thursday | 7:00am - 3:00pm |
| Friday | 7:00am - 3:00pm |
| Saturday | Closed |
| Sunday | Closed |
Request
​​​​​​​Appointment
We offer free cosmetic consultations.